HISTORY OF THE KNIGHTS OF COLUMBUS
Late-19th century Connecticut was marked by the growing prevalence of fraternal benefit societies, hostility toward Catholic immigrants and dangerous working conditions in factories that left many families fatherless.
Recognizing a vital, practical need in his community, Father Michael J. McGivney (above), the 29-year-old assistant pastor of St. Mary's Church in New Haven, Conn., gathered a group of men at his parish on Oct. 2, 1881.
He proposed establishing a lay organization, the goal of which would be to prevent Catholic men from entering secret societies whose membership was antithetical to Church teaching, to unite men of Catholic faith and to provide for the families of deceased members.
As a symbol that allegiance to their country did not conflict with allegiance to their faith, the organization's members took as their patron Christopher Columbus — recognized as a Catholic and celebrated as the discoverer of America.
Thanks to Father McGivney's persistence, the Knights of Columbus elected officers in February 1882 and officially assumed corporate status on March 29.
More on the history of the Knights of Columbus.
HISTORY OF K OF C COUNCIL 11369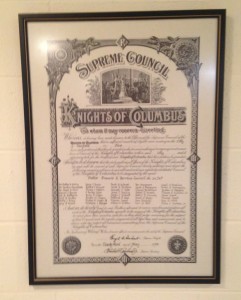 The charter for the Knights of Columbus Father Francis X. Borrano Council 11369 at Canfield, Ohio (above) was signed on May 23, 1994. Some of the 40 original council members still belong to this council today.
As for our namesake, Father Francis Borrano established the Society of St. Paul in the United States, after arriving in New York City from Italy in 1931.
Father Borrano also played a key role in the acquisition of the Monastery property in Canfield in 1944. He is buried in the cemetery on the St Paul property.